So last weekend we stayed at a fabulous villa in Rio San Juan. It was a 3-bedroom villa and 18 people slept there – with the 6 of us in one bedroom – but that's another story.
On the Saturday morning, Wailly had organised a boat/fishing trip for us. After an early start (7am sharp at the dockside at Laguna Gris Gris), we looked at the small lagoon and at the 30-or-so boats moored there. There were several fabulous sports fishing boats – the sort that take big fat Americans fishing for big fat Marlin. Also there was a row of dubious looking open skiffs. Not much more than large rowing boats with aged outboard motors.
Guess which we were going in…..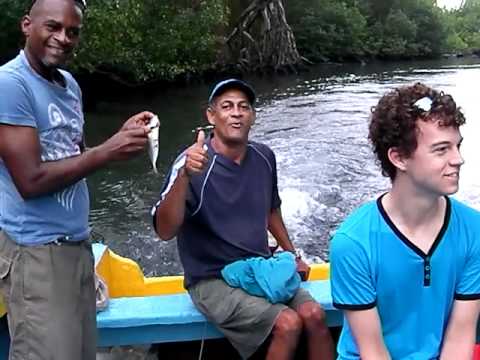 Our skipper, Alberto and first mate Eddie were waiting for us (the 6 of us, plus teacher Ben). We got into our open skiff and set off. Laguna Gris Gris is a small lagoon with a neck of mangrove swamp leading to the sea. Five minutes after setting off and we're into open water. Ten minutes later and the fishing lines are out – the small bait for Dorado and the large bait for Marlin.
Ten minutes later and the first 'are we there yet' question is asked. I quickly run out of diversionary tactics (ooh look, a rainbow….) and we settle into a routine of 'wherearewegoing Idon'tknow justwaitandseewoldyoulikesomemorebread'
Alison started off the trip unwell, and within half an hour looks very green. lok at Ben (teacher Ben, who has joined us), and he's goign green at the gills as well.
Another hour later and … no fish. Alison and Ben are getting greener. The plan had been to sail on further, then head back via a swimming lagoon and beach. We all agree to head back more quickly and spend more time than planned on beach/swimming.
On the way back we stick close to shore, and see some quite fabulous houses. 'Roooshi-an' says Eddie in his broken English. 'Que?', reply I. 'Mafioso' explains Eddie. 'No go near'. Ah, now I understand, and we head on toward the beach.

After half an hour of R&R on Caleton beach (very beautiful), we head to a swimming lagoon. We get there and drop anchor, drop some bread in the water and look over the side into the clear blue water, that is immediately teeming with fish. On go the snorkel, mask and flippers and into the water we go. The water is about 20-feet deep, the bottom is sandy, and I'm surrounded by fish. (Doctor fish, as I later find out)
Matt tries fishing from the boat – and catches his first good-sized fish. They are called Doctor fish (aka Surgeon fish) for a reason – they have a very nasty spike on each flank near the tail – it's used for territory defence during the mating season but can give a nasty wound to human hands.
Then it's back into the boat and back to Gri Gri – and then to the villa for lunch
What a great morning (for most of us, anyway – sadly Alison spent the rest of the weekend in bed)